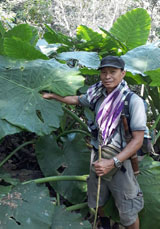 Chakraphan Prawinchaikul (Chan) was born in Mae Hong Son. He is an registered trekking guide and has been guiding tourist on walks since 1985. Chan speaks fluent English and is a self-taught naturalist gathering his extensive knowledge of plants ,insects ,animals and culture through years of observation. Chan is also an avid nature photographer, amateur astrologer and an excellent cook.
AN INVITATION; Come to Mae Hong Son, Thailand's gateway to the northwestern hills and "City of Three Mists" Off the beaten track and set deep in a mountain valley ,heavy morning mists envelop this city of picturesque temples and a colorful local market.
Take one of Chan's Natural Walks and return home with cherished memories of an authentic voyage into Thailand's famously remote hills.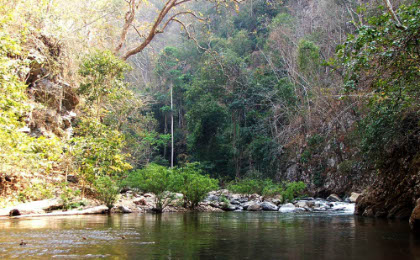 Chan's Nature walks are the key to open your eyes to the beauty of northwestern Thailand's mountain nature and culture. A life-long resident of Mae Hong Son. Chan has an intimate knowledge of Thailand-Myanmar's north hills. He is an experienced guide, a self-taught naturalist and a talented cook. Chan also speaks fluent English.
Chan's Nature walks guide you through light green paddy-fields, rapid rivers and tumbling waterfall, deep green forests and hidden villages. See the beauty of breathtaking vistas, and experience the peace and silence of the remote northwestern hills of Thailand and Myanmar.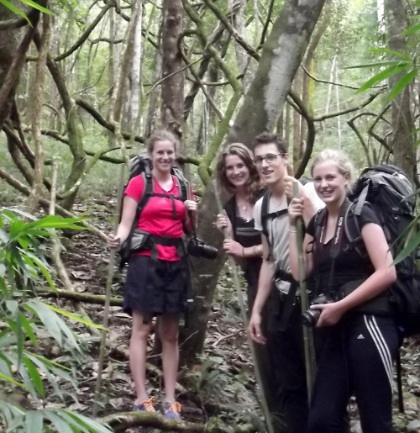 Chan's Nature Walks guide you through the complex pathway system used by local hill tribes. Along those paths, Chan will open your eyes to the life lived by the people in the forest, their herbs and hunting methods, the various fruits of the forest and how the locals cultivate the land. Chan's vast knowledge of the region's flora and fauna allows you to observe nature rarely seen by the untrained eye. Chan can answer your questions and point out details of the environment while you breathe the fresh mountain air and stretch your legs in one of the most unique and untouched regions of Thailand. (Late afternoons will find you arriving at a hill tribe village or a forest campsite for your overnight stay. Chan will personally prepare your delicious Thai meal comprising several dishes, over an open fire. He will explain how the people, who have lived in the area for over 200 years, make their tools, husband their animals and produce their food. Chan's relationship with the hill tribe people is genuine and has been developed over his lifetime of visiting them. That is obvious in the way he and his clients are welcomed in each hill tribe village.)

NatureWalksThai-Myanmar.com is designed with the client in mind. When you arrange your guided tour, discuss with our guide Chan and his friends how you want your hike customized. Choose an ambling one-to-six days nature walks or a challenging trek, designed to your capabilities, interests and specifications.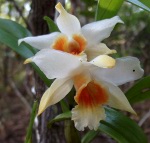 Wild orchids walks
only dry season, Jan-May


*Every program can add town sight seeing tour. elephant riding or rafting as requested.