Seeing wonderful mountain when the peak season of orchids flowering. The special tour for who interested in orchids come at the time of blossom around the month of February, March, April and May. You obsessed in their beauty and perfume and would like to see them glowing in the wild. We would like to introduce you to a paradise home of wild orchids of the north Thailand. It is the glories time of species of Dendrobiums, Rhyncostylis, Aerides, Vanda, Vandopsis, Ascocentrum, Cymbidium, Phaius, Bulbophyllum and Chilochista etc. Make a trip to the wild forests home of orchids on the hills around Mae hong son. You would be surprise and enjoy the breathtaking scenery, every time when take a walks you would discover varieties of orchids from a tiny to the larger plant. The wonderful and a spectacular charming orchids blooming would seen from lowland to highland forests, they are on the ground on the rock and high up on the trees. Also it is the time of forest trees are blooming and they would present you the scene beautiful and the fragrance.
Contact to Mr. Chan to customize your tour and the trip
could be arranging from 3-5 days over night stay in the forest or in villages. Group for a tour 2-6 people.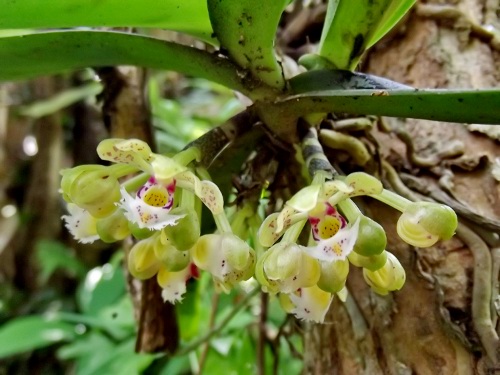 The idea of trip would be;
Travel from place to place by 4x4 car for transport up and down mountains, that would be a long day travel start in the morning travel from lowland dry dipterocarp forest to highland evergreen forest with stay 3 nights during the 4 days tour.
Starting
Day #1
make a trip to the East of Mae hong son toward Doi Pui, the area where are many orchids to see start from lowland dipterocarp forest stop to take a walk along the road to view the orchids on the tree, travel through 3 villages of Karen people possible to visit local people. Afternoon take a walk to find some orchids species on highland oak forest, stay a night in camping. The orchid you would see Dendrobium draconis, D primulinum, D pulchellum, D aggregatum, Aerides, Vanda bensoni, Dendrobium parichii, Chilochista usneoides, etc.
Day #2
trekking by foot toward Doi Mak Prik from the old trace along the mountain ridge seeing beautiful scenery of the mountain and high forest. There are many orchids to see on the way and also other wild flower of the trees. Afternoon visit to Lisu village stay the night in village. The orchids you would find Aerides cressifolia, Rhyncostylis, Bulbalphylum, Dendrobium senile, Dendrobium thyrsiflorum, Dendrobium chrysotoxum, Vanda coerulea, etc.
Day #3
travel by car to the South toward Nam Tok Mae Surin waterfall there are much more of orchids to see at the higher land forest of the oak and pine, evening arrive to Mae Su Rin waterfall stay a night at National park. Pass through Hmong and Karen villages. Orchid you would discover there some Dendrobium trigonopus, D tortile, D scabrilingue, D carniferum, D capillipes, Ascocentrum, Paphiopedilum, Day #4
Travel to the North back to Maehongson, visit The Queen Si Rikit orchid conservation special for Paphiopedilum, Trunia alba, Vanda, Phaius tankervilliae, Dendrobium infundibulum, Dendrobium gibsonii, D secundum, Ascocentrum, Cymbidium tracyanum, and other.
Evening arrive to Maehongson finish the 4 day memorable trek.
You could see more of the other orchid species as mentioned in the itinerary and also wild plant, forest trees in their flower such as Coral tree, Kapok, Dillennia, Butea, shorea, Sterculia, Buahinia, Rhododendren, Have a chance to see some animal, bugs, butterflies, and birds. To visit local people and seeing how people live and farming on the hillside. Evening enjoy the silent and to taste Thai cooking on an open fire. A group could be start with 2 people.