ITINERARY
DAY 0.
You must arrive one day early, to get acquainted with your guide and do an equipment check. Visit Mae Hong Son town. Enjoy dinner and have a good night's rest. [If you want I can arrange accommodation in Mae Hong Son for you and include this in the total price.]
DAY 1.
9.00 am. Car pick up. Short drive. We start walking along a local hill tribe trail. A very narrow and rough trail, leading down to the Mae Hong Son creek. We hike through the creek, deep gorges, ravine, and forest. We walk through water several time. There are many rivers to cross. You will get your feet wet, and will find it a very nice experience. Enjoy a picnic lunch on the river side. In the afternoon, continue hiking through luxuries evergreen jungle. See massive climbing lianas, green bamboo stems, rattan palms, creeping plants such as Philodendron and Vanilla, and undergrowth plants, Wild Gingers, Ferns, Begonias, Arrowroot, Arum, etc. Ascending to Karen farmland, we see slash-and-burn rice fields. Pass through terraced paddy fields. Arrive in Ban Hua Nam for a home stay with a Karen family. Learn about their culture. Guide and porters prepare delicious Thai meals. Enjoy dinner by candlelight.
DAY 2.
Cock-a-doodle-doo!!!. When you wake up in the morning, pigs are running around under the house and people are setting off to work in the fields. Time for a good breakfast of hot tea, coffee, toast, pancakes, fruit salad, eggs, fresh juice. Before leaving we take a walk around the village, visit the primary school, then start the hike again. On the trail you can hear gibbons' enchanting song from far off on the hill side, or you may see them swinging from tree to tree. There are many birds, too--you need a pair of binoculars to spot them. We pass a small village on the way, where we stop for a tea break, and you can people-watch. Lunch in the forest: you get your food wrapped in banana leaves. This time it's fried noodles. We make bamboo chopsticks and a bamboo cup for you. (Everything is bamboo. We can make fireworks in a bamboo stem!) After lunch, you can take it along with you, to use again or to take home as a souvenir. In the afternoon we climb a bigger mountain with a beautiful view. Arrive in Ban Huai Po, a village settled on high elevation in evergreen forest. Stay the night in the village. Enjoy dinner. You can see the people's simple way of life, under the brilliant night sky. I could tell you some of the constellations. Get a good night's rest.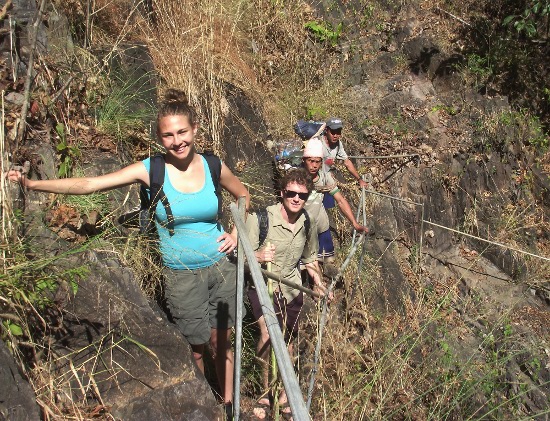 DAY 3.
After breakfast, we start ascending one hour to the mountain top, walking along a ridge. I know the mountain jungle well and can point out things you would otherwise miss. You see the diversity of flora and fauna in the seasonal forest of Thailand. On high land you see mountain Cycad trees, Palms, Pines, Oaks and Chestnuts, members of the Erica family, Wild Orchids, etc. We eat lunch on a place with a panoramic view. You can sit on the ground, and I provide you with a plastic sheet to sit on. We climb down to Nam Hu creek. At the bottom of the hill we hike through the creek--time to cool down your feet! You can stop to swim in the river. We finish our trek and the car takes us back to town. This is a medium hard walk program suitable for nature lover. People who wanted to learn about nature, Cultures, and the walking for botanical, birds, insects, and butterflies. People who wanted to have plenty of time to spend in the forest and in village, to be with people with no rush. What you gain to see and learn from my trekking: Vegetation and animals in the nature reserve from low land to high land:
TREES AND SHRUBS; Teak, Rose Wood, Mahogany, Ebony, Pines, Figs, Oaks, Chestnuts, Magnolia, Dillenias, Coral tree, Butea, Giant Kapok, Eugenias, Black vanish, Dipterocarps, Hopea, Iron Wood, Shoreas, members of the Erica family, Wild Tea, Cinnamon Tree, sterculia tree, Palms, Cycads tree, Ferns tree. Wild Banana, And many different typical of Bamboo. Etc. Thailand trek.
FOREST FLOOR PLANTS.
Wild Bananas, Begonias, Wild Gingers, Gentians, Forrestia, Black lily, Commelina (Spiderworts), Lily, Mimosas, Morning glory, Ferns, Balanophora, Rafflesia. Diversity of Fungi, Mushroom and Toadstool.
EPIPHYTES PLANTS.
Wild Orchids. Ferns. Dichidias. Figs. Mosses. Lichens. Etc.
ANIMALS in the area:
Tiger [very rare], Leopard Cat, Golden Cat, many smaller cats, Wild Pigs, Seraw and Goral Goats, Sambar Deer, Barking Deer, Monkeys, Gibbons, Langurs, Slow Loris, Porcupine, Rodents, Badgers, etc.
SNAKES:
King Cobra, Asiatic Cobras, Green Vipers, Rat Snakes, Rock Python, Reticulated python, Whip snakes, Flying snakes, Cat snakes, etc.
LIZARDS:
Clouded Monitor, River Monitor, Geckos, Skinks, Agama lizards, Oriental long-tailed lizard, Flying Lizards, Water lizard, etc.
BIRDS:
Great Hornbill, Pied Hornbill, Great Barbet, Black Bulbul, Dusky Broadbill, Frog Mouths, Hawks, Eagles, Green Peafowl, Pheasant, Jungle Fowl, Green Pigeons, Drongos, Sunbirds, Woodpeckers, etc.
BUTTERFLIES & MOTHS:
Imperial Butterfly, Paris Peacock, Rose Swallowtail, Orange Albatross, Indian Leaf Butterfly, Peacock Royal, Bird-wing Butterfly, Jungle Queen,Cruiser Butterfly, Clipper, Skippers, Monarch, Blue Crow, Atlas Moth, Moon Moth, Owl Moth, Hawk Moth. Etc.
OTHER INSECTS:
Walking Stick, Leaf Insect, Pray Mantis, Beetles, Lady-Birds, Daddy long-legs, Assassin Bugs, Sweat Bees, Bush cricket, Grass Hoppers, Wasps, Ant-lion, Water scorpion, Water bugs, Spiders, Tarantulas. Etc.